Red Dot Ready / RMR Cut Out on Kusiak Holsters!
What is the RMR?
First, What is an RMR: Ruggedized Miniature Reflex sight enables fast, both-eyes-open, target acquisition—even in poor lighting conditions. Also referred to as Optic Sights or Red Dot Sights.
There are many different red dots available in the market. We have had a great deal of requests for the RMR Cut out for the P365, MAX-9, Hellcat, Glock 19, Glock 17, FNS and more. As there are many different red dots available we custom make each holster to the red dot that you have. Since all of the Kusiak Holsters are Made to Order, with some exceptions, we just need a *picture of your handgun with the red optics installed. This simple step allows us to make a unique cut on our already patterned holsters to allow enough space for the red dot to fit in. As we see the Red Dot Holsters in the market grow, we will have our Red Dot Cutout option available in one of our most popular holsters, the Old Fashioned IWB Holsters and the American IWB; the Holster Claw as one of the first in the leather gun holster market. 
We now offer options for optics, Red Dot Ready for your RMR as optional. If you have a handgun that has an installed optics you will need to order a Red Dot Ready or RMR cutout option. 
The holster is
cut
to fit your gun if you have one of these [see image below] attached to it. 
In case you aren't familiar with it,
RMR
stands for Ruggedized Miniature Reflex
sight, most popular name Red Dot and or Optics.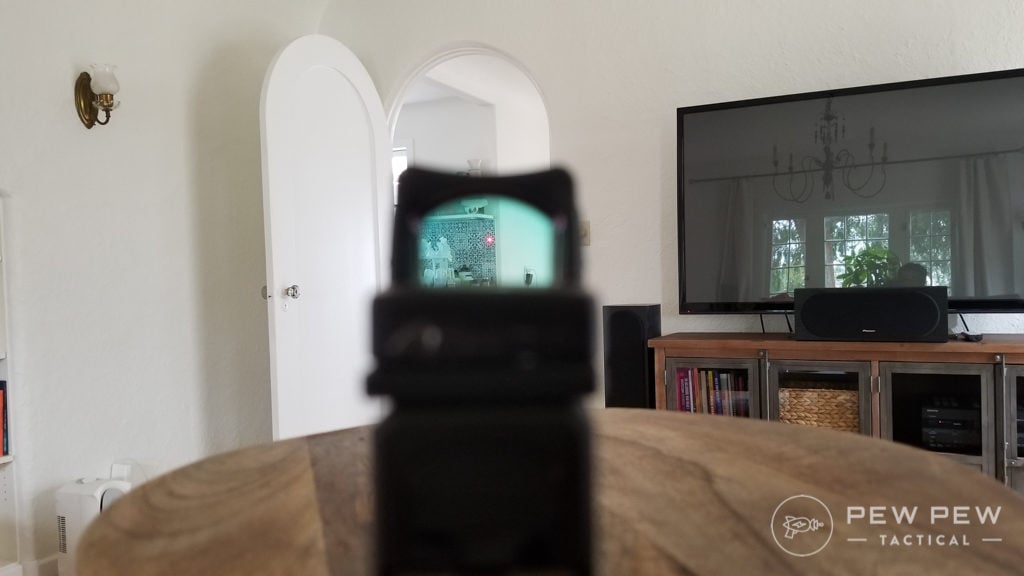 The Dual Illuminated
RMR
has a tritium-phosphor lamp that illuminates the reticle in low light conditions. Fiber optics automatically adjust the brightness level and contrast. The LED
RMR
automatically adjusts its illuminated reticle to light conditions. So the Ruggedized Miniature Reflex sight enables fast, both-eyes-open, target acquisition—even in poor lighting conditions.
If you have trouble seeing the front sight to the point it is difficult to tell if it is in the notch of the rear sight or on the target, then yes it is definitely worth it. If you can still reliably do head shots at 30 yards with steel sights then I would say no, it's not worth the cost.   
CUSTOM HOLSTERS
Kusiak Leather holster design to have the most low ride hight possible, grip and cant with the best possible retention once broken in for most comfortably concealed carry set up. The Old Fashioned IWB and American IWB offers the most customized options for your handgun, from color, to red dot cut outs, to different belt clips, reinforcement, extra magazines attached or single mag pouch. 
The gun-belt we offer; the "Nexbelt" provide the least amount of extra weight and it accompanies our holsters elegantly. Every Kusiak Holster can also be equipped with the UltiClip, besides our standard belt clips. All Materials in production come from the USA and it is all done in the USA, State of Texas! 
 Best Retention Through a Better Design
Kusiak Leather holsters are designed to provide the best most comfortable IWB holster for your gun, not just a holster to fit in for a fast draw. Keeping in mind that one size does not fit all with every Kusiak Holster you receive precisely the best fit for your pistol, no matter the pistol you have. Our holster are the slimmest and provided no extra bulkiness. 
With the right holster for your pistol, you get better concealment and a more comfortable carry than with a holsters design that doesn't really suit your concealed carry pistol.
If you are looking for something a little different something that looks great and that you can comfortably conceal carry your pistol. Check out all the options that we have to offer
HERE
LINKS:
I read some good stuff over at
Pewpewtactical.com
  [not affiliated just a good read]
---